I'm going to tell you about the three most popular choices of hamster housing these days. There are many additional ways to giving your hamster a luxury condo, but these are the cheapest, safest, and most efficient homes on the market.
First off, my personal favorite, the aquarium!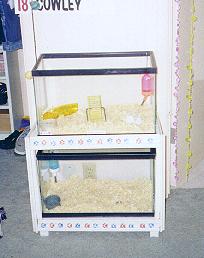 Aquariums have many good attributes and give an extremely clear view of your pet. They give enough room to house about four adult dwarfs and are easy to maintain. They're very inexpensive (approximately $10). You will need a wire cover as well. They're hard to knock over, safe, and escape-proof.
I've read that heat can build in aquariums and cause heatstroke. My suggestion is to keep it out of direct sunlight and your hamster will be just fine. The best thing about aquariums, though, is the fact that they're so easy to clean out.
Wire Cages

Wire cages are well-ventilated, sturdy, lightweight, fairly easy to clean, and very economical. They cost anywhere from $8 to $20 dollars, depending on size. The only problems are the fact that drafts easily penetrate the cage and can cause pneumonia in the hamster. Also, hamsters tend to kick the bedding out of the cage and make a big mess. Otherwise, these homes are easy to maintain and easy to carry around.